Instructors can create scheduled or recurring Zoom meetings for their class and post the link within Canvas. Students will simply click the link to join the session, download the software and start participating.
Getting Started
Download the Zoom client to your computer and install it. Once installed, all Zoom events can be initiated by launching the Zoom client, similar to using Skype or FaceTime.
When you launch the Zoom client for the first time, select the Sign In and make sure you choose the option to "Sign in with SSO" (SSO stands for "Single Sign On" and relates to our firstname.lastname@du.edu accounts at DU).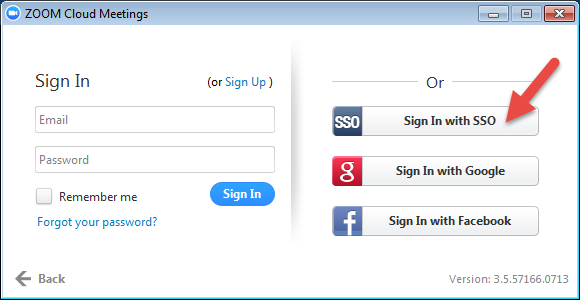 When prompted for company domain, type udenver.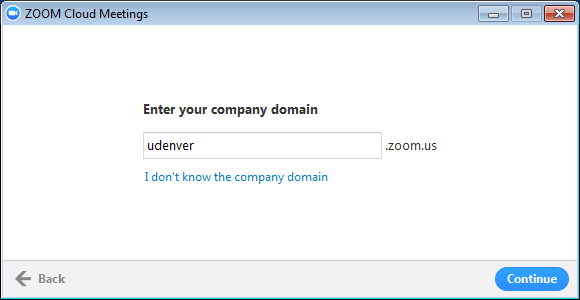 You will then be prompted to sign in with your firstname.lastname@du.edu username and password. This is the same password as you use for Pioneerweb, email and Canvas.
The Zoom client will launch and display a window similar to the one below.
From this screen, click on the Schedule icon.
Topic: Choose a topic/name for your meeting.
When: Select a date and time for your meeting.
Timezone: By default, Zoom will use your computer's time zone setting. To change the time zone, click on the highlighted link.
Recurring meeting: Choose if you would like a recurring meeting for which the meeting URL does not change. (Recommended for Canvas)
Video (when joining meeting): default video to on or off for host and/or participants
Audio Options:  choose whether to allow users to call in via Telephone, VOIP, or both. (Recommend leaving as Both)
Password (optional): You can enter a password here. Participants  will be required to enter this password before joining your scheduled meeting, so be certain to tell them the password along with the meeting URL.
Enable join before host: Allow participants to join your meeting before you. (Recommended)
Calendar: Add to any selected calendar and send out invitations to participants. (Recommend 'Other Calendars' to copy and paste the information into Canvas)
Schedule: Click here to finish and open up the calendar you have selected.
*Canvas Note* Choosing "Other Calendars"  is the easiest way to get the URL into Canvas, although you can use the other calendar options if you are comfortable using them.
 Once you click on the 'Other Calendars' page, you'll see this popup box. The most important information is the URL listed in the highlighted red text: this is what you will post to Canvas.
You can copy just the URL with your mouse or trackpad, or click on the  'Copy to Clipboard' button to move all of the text to your clipboard.

Within Canvas
We recommend that instructors place this meeting URL into an Announcement, a Page,  a Module item (if you are using modules), or a Canvas Inbox message. There's no 'wrong' place to put the URL in Canvas, but these choices are the most common.
Example: URL pasted into an Announcement in the course. 
Student will simply need to click the URL to join the scheduled Zoom meeting. If this is the first time they have used Zoom, they will be prompted to download the software automatically. They will not need to login to Zoom to join the meeting.
---
Need additional help with Zoom?
Call 24 hours, 7 days a week : 888-799-9666 Ext 2
Need additional help with Canvas?
Call 24 hours, 7 days a week: 855-712-9770
Recording Your Zoom meeting: